Indiana Logistics
When compared to all other states, Indiana ranks in the top 10 in 100 significant logistics-related categories and in the top 5 for 27 of those. Learn more here.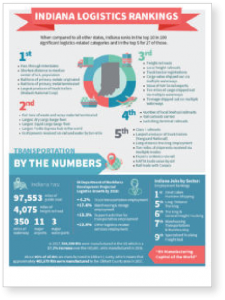 Elkhart County Accessibility
Focus on logistics and improved road systems continue to make Elkhart County, Indiana, a quality and easily-accessible location in the Midwest.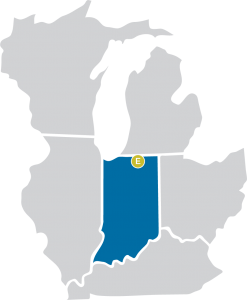 Interstate access via I-80/90 provides four interchanges to Bristol, Elkhart (2) and Middlebury. State and county roads are designed to aid and support the flow of business. Railroad access — including both mainline and shortline — have been recently upgraded to meet the increased demand for product. Port access to Burns Harbor, Port of Indiana, is within 75 miles of the County, providing year-round waterborne shipping access.
Indiana and Elkhart County are national leaders in logistics. Indiana is in the median center of U.S. population with the distribution advantage that 70% of the U.S. population is within a days drive of the state. In fact, Indiana as a whole has more pass-through Interstates than any other state in the nation. It also ranks 1st in pass-through truck tonnage, 11th in trucking employment and 11th in number of trucking companies. In the latest "Cost of Doing Business" rankings by CNBC, Indiana ranked 3rd in transportation, which helped it attain a 2nd overall for "lowest cost of doing business".
Rail Advantages
Indiana ranks only 38th in geographical size, but ranks 4th in the number of rail carloads, 5th in number of railroads and Class I railroads, 9th in most rail miles and 7th for the most rail tons of freight originating in the state. Indiana, in fact, ranks 1st in rail tons of primary metals originated and terminated, 4th in rail tons of food products and 7th in rail tons of coal originated and terminated.. Elkhart County has 4 railroads; and the Elkhart Rail Switching Yard is the 2nd largest Norfolk Southern Rail Yard in the nation.
Indiana Railroads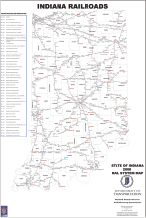 Elkhart Co. Railroads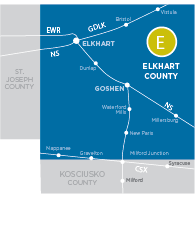 Water-Borne Shipping Advantages
Elkhart is only 68 miles from Burns Harbor Port, and it is via Interstate 80-90 all the way. Burns Harbor is the largest port on the Great Lakes, with capability of direct shipment to the Gulf of Mexico and the Atlantic, and has rail service from all Class I Railroads. Via the St. Lawrence Seaway and the Inland Waterway system shipping can go directly to Michigan, Ohio, Pennsylvania, New York, Kentucky, Tennessee, Alabama, Mississippi, Louisiana, Arkansas, Missouri, Oklahoma, Kansas, Nebraska, Iowa, Wisconsin, Illinois and other parts of Indiana. Indiana, as a whole, ranks 11th in the nation in water-borne shipping and 6th in U.S. domestic waterborne traffic. Indiana is served by two other ports in the southern part of the state.
Indiana Logistics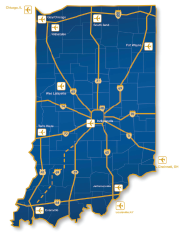 Airports & Ports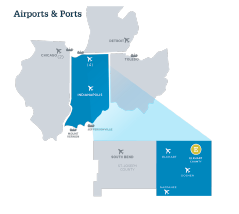 Air Advantages
Indiana is one of only 8 states that have multiple airports in the top 50 for air cargo; Indianapolis is 7th (ahead of both JFK and Dallas/Fort Worth) We also rank 9th in the number of airports, two of which are close by: Elkhart and South Bend.
Indiana Logistics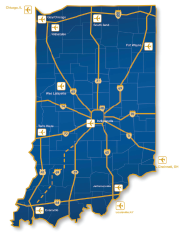 Airports & Ports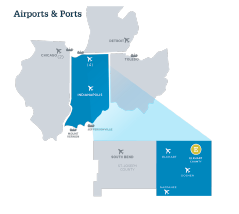 Please contact the EDC for assistance with your next expansion and/or location decision at 574.293.5627 or edc@elkhartcountybiz.com. Or use our Business Contact Form to receive a call-back from one of our team members.
A variety of tax incentive programs are available to encourage business development and growth in
Elkhart County.
Local tax incentives are based on three qualifiers: number of jobs; wages of jobs and investment (real and personal) property. All incentives require approval in advance of project start. Elkhart County has streamlined the process in securing incentives for quality investment and job creation.
Business Credits & Exemptions in Elkhart County
Local & State Tax Structure
Indiana is a pro-growth state for business. Reducing barriers and building better quality environment to live, work and play.
AAA Credit Rating
Top bond rating from all three major credit rating agencies (S&P, Fitch, Moody's) reinforcing fiscal management by legislative leadership.
Headquarter Relocation Tax Credit
Provides a tax credit to corporations relocating their headquarters to Indiana. Credit is assessed against the corporation's state tax liability.
R&D Tax Credit
Incentive for business investment in Indiana by providing a credit against state tax liability for qualified company research expenses. Based on the increase in Indiana R&D over the prior three-year base.
R&D Sales Tax Exemption
Taxpayers receive a credit against their Indiana state income tax liability calculated as a percentage of qualified research expenses. Additionally, taxpayers may be refunded sales tax paid from purchases of qualified research and development equipment. The Indiana Department of Revenue oversees these incentive programs.
Patent Income Exemption
A taxpayer may claim the exemption for 10 years with respect to a particular patent. The total amount of exemptions for patent derived income a taxpayer may claim in a taxable year is $5 million.
Business Investment Tax Credit
Non-refundable corporate income tax credits are calculated as a percentage of the eligible capital investment to support the project. The credit may be certified annually, based on the phase-in of eligible capital investment, over a period of two full calendar years from the commencement of the project.
Alternative Fuel Vehicle Manufacturer Tax Credit
Program provides a credit up to 15 percent, as determined by IEDC, of the qualified investment for the manufacture of alternative fuel vehicles. An applicant must compensate its employees at least 150 percent of the state's hourly minimum wage and agree to maintain operations for at least 10 years. The Hoosier Alternative Fuel Vehicle Manufacturer Tax Credit
Economic Development for a Growing Economy Tax Credit (EDGE)
Provides incentive to businesses to support jobs creation, capital investment and to improve the standard of living for Indiana residents. The refundable corporate income tax credit is calculated as a percentage (not to exceed 100%) of the expected increased tax withholding generated from new jobs creation. The credit certification is phased in annually for up to 10 years based upon the employment ramp-up outlined by the business.
Corporate Income Tax Reduction
Indiana's corporate income tax rate is steadily decreasing from the current 6.25% to 4.9% by 2022. The tax rate will continue to drop each year as the decrease is phased-in. Additional tax benefits include:
No Inventory Tax
Right-to-Work State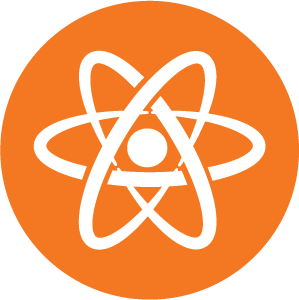 Utility rates are among the lowest in the nation. Whether electric or natural gas, our utility partners support and make it easy to do business in Elkhart County, Indiana.
Negotiated Sales Service, Energy Access Online, Engineering & Construction services with Power Quality Analysis are all tailored to suit customer's specific gas requirements and company profile.
Electricity
Indiana Michigan Power (I&M)
Serving City of Elkhart
Shelley Klug, Economic & Business Development | 269-235-2006 | slklug@aep.com
www.indianamichiganed.com
I&M provides reliable, high-quality electricity with economic development incentives available for new and expanding commercial/industrial customers. I&M's balanced energy portfolio is currently more than 50% emission-free with renewable energy sources coming from solar, wind, and hydro-electric dams.
Northern Indiana Public Service Company (NIPSCO)
Serving Bristol, Goshen, Middlebury, Millersburg, Nappanee, New Paris, and Wakarusa
Diane Thalmann, Economic Development | 219-647-5134
www.ni-econdev.com
NIPSCO electric rates are, on average, below the national average. Electric rates are better with a higher load factor. Given the same load factor, the rates are better the more electricity you use.
• For small usage, the current cost per kwh is 10.0 to 10.8 cents.
• For higher usage, the current cost per kwh is 6.8-9.8 cents.
(These all assume 85% power factor. Estimates are based on the rates currently in effect (as of February 2011), and on the actual trackers and fuel adjustment charges from the last twelve months. As these trackers and fuel adjustment charges change, these electric rates could vary by up to 5-15 cents per kwh. NIPSCO is in the middle of a rate case filed at the IURC for an approximate 8% increase in rates, not included in these estimates.)
Natural Gas
Northern Indiana Public Service Company (NIPSCO)
Serving Elkhart County
Diane Thalmann, Economic Development | 219-647-5134
www.ni-econdev.com
NIPSCO gas rates and gas transportation rates are among the lowest in the nation. The gas rates are generally lower the more usage there is.
• For small usage, the current range is 70-90 cents per therm.
• For large usage, the current range is 65-70 cents per therm.
• These estimates are based on the current (February 2011) billing determinants.
As determinants change, these gas rates could vary by up to 1 cent per therm.
NIPSCO Products & Services
Negotiated Sales Service – Unique sales tariff available to gas customers averaging 200 Dth/day. Transportation service and pricing bundled into one sales price. Contracts individually negotiated and tailored to specific gas requirements and profile.
Energy Access Online – Gas transportation customers access information and submit nominations. Online data includes BTU values, daily pricing, daily metered usage and contract summaries. Transactions support: imbalance exchange and balance nominations.
Construction Services – Over 70 years of experience in electric line construction, sub-station maintenance, distribution transformer maintenance, thermography, gas pipeline construction, directional boring, trenching and corrosion control.
Engineering – Design for electrical substations, transmission and distribution lines. Field services for commissioning of new equipment, troubleshooting and repair of existing equipment.
Power Quality Analysis – Identify power disturbance problems and provide optimal solutions.
Business Link – Service representatives team available 24 hours a day to NIPSCO industrial customers.
Fiber
Elkhart County embarked on a project to provide traffic signal interconnect along the County Road 17 corridor between County Road 28 and County Road 4. The purpose of the project was to install a fiber optic connection between traffic signals and backhauling the data and video back to the Engineering Office. With this cutting-edge technology in place, Engineers could program traffic signal interconnection and timing to keep traffic flowing at a maximum level and reduce the delays due to inefficient traffic signal timing.
The original installation of 144 fiber strands into one of four conduits connecting each signal provided for future expansion. Elected Officials and Highway Staff brainstormed the use of the excess capacity and how Economic Development opportunities could benefit. As a result, interest began to build in how the increased need for broadband throughout the County could be met through the additional fibers and conduits installed for the traffic signals.
Dark fiber is the backbone of data services, and private companies benefit by providing data transmission, data storage, and internet service.  Dark fiber creates economic investment opportunities in technology service and the kind of diversification that also compliments the recreational vehicles industry.  Dark fiber is also the backbone of the development of a 5G network. The additional focus of dark fiber lays the framework for attracting new sectors of business and manufacturing technology, while retaining and perhaps bolstering the recreational vehicle industry through enhanced technology.
The dark fiber project in Elkhart County provides businesses and industries the opportunity to choose their service provider to provide lit service, as opposed to being forced to use the private provider installed fiber. Dark fiber gives the consumer a choice of provider and a choice of a pricing structure.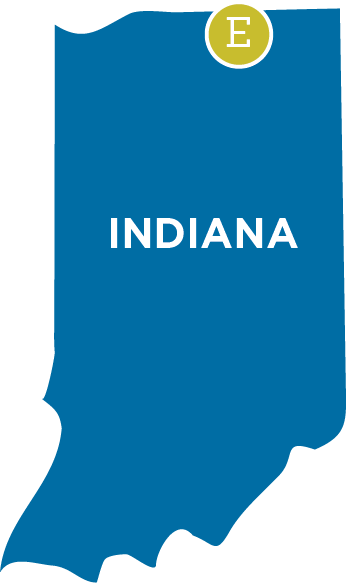 Business incentives, low corporate tax rates and AAA credit rating all make Elkhart County, Indiana, a great place to live, work and play.
Elkhart County continues to provide economic vibrancy and an ecosystem ideal for growth and vitality to our communities and state. Our Business Response Team make establishing your business easy, risk-free and efficient, whether for relocations or expansions. Contact us today for assistance.
Our Mission
Our Mission is to create an economically vibrant community by recruiting, retaining, and strengthening our economic base; being a catalyst for diversification, innovation, and economic change.
Our Vision
The EDC of Elkhart County will leverage our entrepreneurial spirit, expertise and regional resources to develop a more prosperous community through a diversified, resilient and knowledge based economy.
Our Location
300 NIBCO Parkway, Suite 201
Elkhart, IN 46516
Toll Free: 877-535-1002
Phone: 574-293-JOBS (5627)
Fax: 574-343-2951
edc@elkhartcountybiz.com