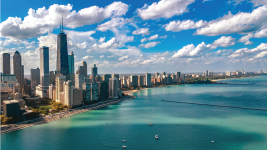 Elkhart County Offers Exceptional Work, Live, Play Balance. Elkhart County is a safe and family-friendly community affording a leisurely lifestyle within easy access of large metropolitan populations within a couple of hours.
Chicago, Indianapolis and Lake Michigan are all just a short drive away for a range of activities from shopping and dining, to watching Nascar racing or swimming at the Indiana Dunes. Many local colleges and universities add zest to the lifestyle and culture of our region. Elkhart County is a great location for business and family.
Just 2 hours from Chicago
The quality of life in Elkhart County is one of its main attractions for businesses and their employees and managers. Located within 2 hours of Chicago, Elkhart County offers a vibrant live-work community without the hassle of big city living, and close proximity to the I-80/90 interstate provides easy access to a range of nearby amenities. The county features magnificent homes, with large sites or river views, and the cost of living is much more affordable than in other parts of the country.
All-in-all, Elkhart County offers an accessible, more affordable and diverse background for your daily life with a variety of activities for every season.
A wide range of recreational activities for every season are easily accessible from Elkhart County — from snow skiing in the winter to water skiing in the summer!
Arts, Culture &
Entertainment
Culture and arts are an integral part of community throughout Elkhart County, offering the ideal setting for developing and working artists of all mediums.
Elkhart County is an ideal destination for shopping, from high-end boutiques to antique and craft selections. You can find it all here!
Convenient Access
to Nature
For the sportsman and nature-lover, Elkhart County is lake, river and forest country — filled with parks, preserves and many opportunities for enjoying the great outdoors
Our Communities
(cities and towns)
The Town of Bristol
Bristol offers indoor and outdoor entertainment for your entire family. A wide variety of outdoor activities are available, from riverside charm, waterfront parks, kayaking on the St Joseph River to the hiking trails. For a slower pace try the Elkhart Civic Theatre/Bristol Opera House, the Elkhart County Historical Museum, the Bristol Hills Storytelling Festival or Bonneville Heritage Day. Don't forget to buy fresh ground cornmeal from Bonneville Mill. Meet Percy the local ghost. The town of Bristol offers something for everyone!
Learn more at www.bristolindiana.net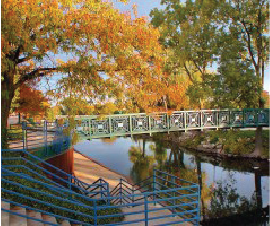 The City of Elkhart
Elkhart is continuing its revitalization of the Downtown area and has already created a symphony of arts and cultural activities available at your fingertips. See a show at the magnificently restored Lerner Theatre, explore Downtown at the quarterly ArtWalks, enjoy Riverwalk Culture Trail walking tours, peruse the Midwest Museum of Art, stroll through Wellfield Botanic Gardens, or the National New York Central Railroad Museum — Elkhart offers many options for premium entertainment! Visit the restored historical mansion of Ruthmere, a 1910 House Museum, for a look at what live was like in historic Elkhart. A wide array of delightful cultural and recreational activities are available throughout Elkhart. Attend our renowned annual Elkhart Jazz Festival, the Municipal Band Concerts at McNaughton Park, and hear the Elkhart County Symphony. And don't forget to stop by the RV Hall of Fame to see how Elkhart became the RV capital of the world!
Learn more at www.elkhart.org, www.elkhartcountyindiana.com or www.downtownelkhart.org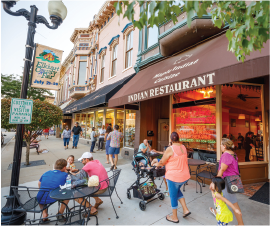 The City of Goshen
Goshen is our beautiful County Seat. The downtown area features a thriving cultural arts scene, and boasts interesting places to eat and shop, as well as monthly festivals such as First Fridays. Visit the Artisan Market, Goshen Brewing Company, Goshen Theater, or the Old Bag Factory for specialty shopping, and the downtown artisan's shops. See the Northern Indiana Heritage Trail, or stop by Goshen College for music and entertaining events. And enjoy the beautiful architecture while you are there.
Learn more at www.goshenindiana.org, www.goodofgoshen.com, www.cityonthego.org or www.goshen.org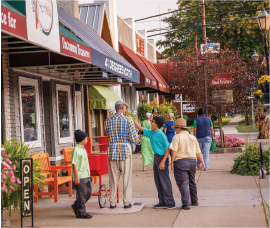 The Town of Middlebury
Middlebury is known as being "Grown from Tradition" as the first settlers arrived in Middlebury in 1832. A strong Amish and Mennonite community still exists today — beautifully handmade goods and organic foods grown locally are premium offerings while shopping Middlebury. Be sure to include stops at the Village Inn Restaurant, Das Dutchman Essenhaus Restaurant and the Village Shops, and then attend the seasonal festivals such as Third Fridays and Cinnamon Stick Shopping. Watch the Lehman family make noodles, shop the Amish Way at Gohn Brothers Dry Goods Emporium, and appreciate the lovely traditions of the community.
Learn more at www.middleburyin.com or www.middleburyinchamber.com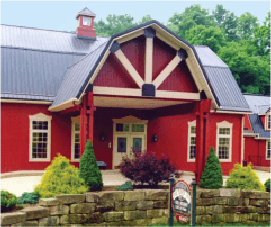 The Town of Millersburg
Millersburg states it is the town teenagers vow to leave yet always return to raise their families. The town was established in 1855 as Cook's Station (the town depot) and later changed to Millersburg. Boasting a local B & B, as well as everything else you need to live comfortably, Millersburg residents find it the "perfect quiet town in which to live."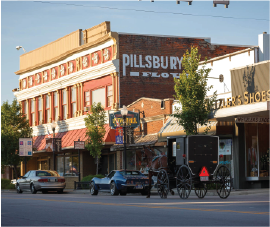 The City of Nappanee
Nappanee deserves a quiet meander to best view their architecture, restored murals and many shops. Visit the Amish Acres Wine Tasting Loft, Veni's Sweet Shop, Weaver Furniture Barn, Amish Acres Restaurant Barn and the Round Barn Theatre, Quilt Shops, and the Dutch Village Market. And even more shopping is offered by rural retailers. Over 3,500 old order Amish live in this area – just look for the beautiful, unornamented white farmhouses and gorgeous flower gardens. And don't miss more of the Elkhart County Quilt Gardens along Heritage Trail!
Learn more at www.nappanee.org, www.nappaneechamber.com or www.visitnappanee.com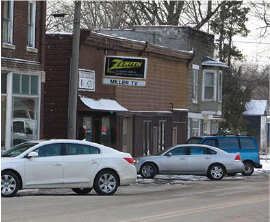 The Town of New Paris
New Paris offers a cost of living at 12.20% lower than the national average according to Sperling's Best Places to Live. Sperling's also ranks New Paris as number 61 of America's Best Cities for Crime, and number 91 as America's Least Stressful Cities to Live. New Paris is a small community that can boast tree-lined streets, historic buildings, and lovely neighborhoods. On Fridays during the warmer months, New Paris offers "2nd Friday" events that range from Fishing Contests to a Garden Tractor Pull, as well as music, entertainment, children's activities and "Games of Skill". Don't miss the action in this lovely place to live.
Learn more at www.newparis.net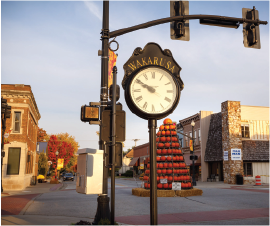 The Town of Wakarusa
Boasting a single stoplight, Wakarusa offers a wholesome environment of family-owned businesses and shops, an Antique Mall and Historical Museum as well as hardware, sweets at the local Dime Store and a spring Annual Maple Syrup Festival. Be sure not to miss the Memorial Butterfly Garden, June Bluegrass Festival or to enjoy a home cooked meal at one of several local restaurants.
Learn more at www.townofwakarusa.com

Elkhart County's
cost of living is only
93%
of the National Average.
Housing & Real Estate
Elkhart County real estate has rebounded since the recession of 2008/2009. We have a variety of neighborhoods, sub-divisions, waterfront real estate, country and historic homes for you to see. If you prefer to choose land or acreage and build your home, we have builders galore.
Check the following websites to see what's available in our cities and towns today!
Elkhart County Real Estate:
www.realtor.com
www.homes.com/for-sale/elkhart-county-in
www.zillow.com/elkhart-county-in
Elkhart County Board of Realtors: www.ecbor.com
Healthcare
Beacon Health Systems, Elkhart General Hospital
600 East Blvd, Elkhart
574.523.3161
www.egh.org
Elkhart County Health Department, State of Indiana
608 Oakland Avenue, Elkhart
574.523.2117
www.in.gov
Goshen Health Hospital
200 High Park Ave, Goshen
574.533.2141
www.iuhealth.org
Maple City Health Care Center
213 Middlebury St, Goshen
574.534.3300
www.mchcc.com
Heart City Health Center
236 Simpson Ave, Elkhart
574.293.0052
www.heartcityhealth.org
Services for the Disabled
Learn more about the Association for the Disabled of Elkhart County (ADEC):
Resources for Independence at www.adecinc.com

7
PUBLIC
SCHOOLS
systems
---
more than
50 
PRIVATE
SCHOOLS
within the county
Grades K-12 District Grade / Point Rating
Ratings by Indiana Department of Education
School District

2017
Grade

2016
Grade

2015
Grade

Baugo Community Schools

From early childhood to graduation day, our focus remains on student success. Our high expectations have led us to have the highest iRead scores in the area for 2013. We also have the fifth highest growth scores for math in the entire state, as measured on the ISTEP. Most impressively, the Baugo Community Schools have been given an "A" rating by the Indiana Department of Education.

B

B
B

Concord Community Schools

Our mission statement is "Preparing All Students for Success." What does that mean? It means our staff works with students and families so that every aspect of a child's education in our community is pursuing excellence. We want excellence in learning for our students and staff. We want excellent technology and support services. We want an excellent school board and administration. We want excellence in student athletics, fine arts, clubs and activities.

B
C
C

Elkhart Community Schools

At Elkhart Community Schools, curriculum is defined as the knowledge, skills, and attitudes to be taught and learned. The curriculum is the substance of what is taught, written, and assessed. We have a long and excellent history of curricular development and revision accomplished by instructional staff, administrators, and parents working together with subject area specialists in the Instruction and Learning Department.

C
C
C

Fairfield Community Schools

Formed in 1963,the Fairfield Community School District is located in the southeastern portion of Elkhart County in north central Indiana. Fairfield Community Schools is a district of roughly 2,000 students serving Benton, Clinton and Jackson townships. District schools include three K to 6 elementary schools and one grade 7 to 12 junior-senior high school. An elected five member Board of Education governs the district.

B
B
B

Goshen Community Schools

At GCS, we serve more than 6,400 students and are recognized for our ability to bridge school and community. The academic, extracurricular, and cultural diversity of our schools provides students with options and experiences not available elsewhere. With excellent programs such as High Ability, English Learners (EL), and the Elkhart County Special Education Cooperative (ECSEC), GCS is able to meet the needs of all students.

C
B
B

Middlebury Community Schools

"The mission of Middlebury Community Schools is to prepare our students to be life-long learners and contributing citizens." With schools providing the foundation for community development combined with the desire to provide our children with appropriate educational opportunities, Middlebury Community Schools is looking to expand in the near future!

B
B
B

Wa-Nee Community Schools (Wakarusa & Nappanee)

Our three elementary schools, grades K-5; NorthWood Middle School, grades 6-8; and NorthWood High School, grades 9-12; serve nearly 3000 students. Our students consistently bring positive recognition to our schools and community through their many academic and extra-curricular achievements. Our administrators, faculty and staff are highly qualified and constantly strive to meet the challenges of our "Tradition of Excellence".

A
A
A
Higher Education
within 50 miles of Elkhart County

35
COLLEGES &
UNIVERSITIES
within an
hour's drive
Institutions offering
Associate (2 Year) Degrees
Ivy Tech Community College
Elkhart, Gary, South Bend IN
Southwestern Michigan College
Dowagiac, MI
Ancilla College
Plymouth, IN
Lake Michigan College
Benton Harbor, MI
Glen Oaks Community College
Centreville, MI
Kalamazoo Valley Community College
Kalamazoo, MI
Institutions offering
Undergraduate (4 Year) Degrees
Goshen College
Goshen, IN
Indiana University
Elkhart, South Bend, Fort Wayne IN
St Mary's College
South Bend, IN
University of Notre Dame
South Bend, IN
Holy Cross College
South Bend, IN
Bethel College
Mishawaka, IN
Trine University
Angola, IN
Huntington University
Huntington, IN
Manchester College
North Manchester, IN
Purdue Polytechnic
South Bend
Purdue University
Calumet, Hammond & Westville, IN
Valparaiso University
Valparaiso, IN
Calumet College of St. Joseph
Whiting, IN
Andrews University
Berrien Springs, MI
Western Michigan University
Kalamazoo, MI
Kalamazoo College
Kalamazoo, MI
Other Educational Resources
Ethos Science Center
Elkhart, IN
Horizon Educational Alliance
Elkhart, IN

650+
Lakes and bodies of water
in the area
Elkhart County Offers Exceptional Work, Live, Play Balance. Elkhart County is a safe and family-friendly community affording a leisurely lifestyle within easy access of large metropolitan populations within a couple hours.
With over 650 lakes in the immediate area surrounding our county, water sports, fishing and boating are prime activities during warm weather months. During the winter, sports like downhill skiing, snowmobiling and ice-fishing take over. The area is surrounded by original vintners and wineries in both Michigan and Indiana, world-renowned museums and the unique cultural offerings of the local Amish population.
Museums & Cultural Activities
Local Wineries & Breweries
BEautiful River & Lake Country
Proximity to nearby cities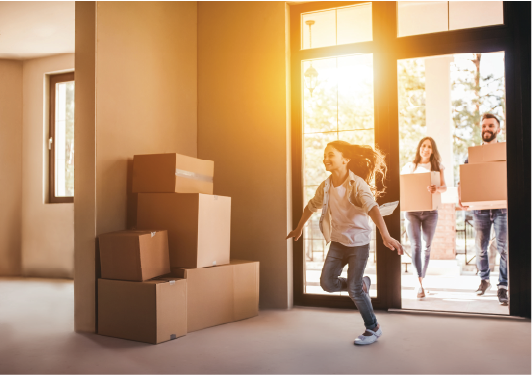 The Economic Development Corporation of Elkhart County is also dedicated to providing support for trailing spouses and families. Relocating to a new city can be a strenuous process, but our goal is to ease your transition and provide information for spouses and families relocating to the Elkhart County area. While employers may provide relocation assistance that includes job search services for trailing spouses and/or families members, it is also helpful to do your own research and familiarize yourself with the employment market of the city you're moving to. Below we have provided helpful links to familiarize trailing spouses with local job search ideas, as well as online resources. As many experience when they relocate here, Elkhart County is a welcoming community with a wide variety of opportunities.
Find a Job in
in Elkhart County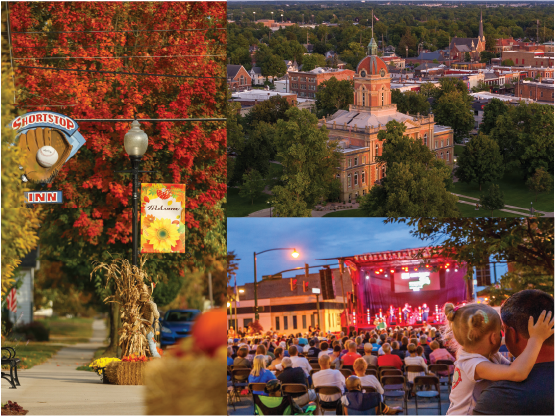 Indiana is home to the median center of the U.S. population. 70% of the nation's population is within a day's drive.
Attractions include natural and navigable waterways, theatre productions, parks and recreation, dining establishments, indoor shooting ranges, local botanical gardens, museums — all within Elkhart County! College football and basketball games at the University of Notre Dame are within a half-hour drive. From Shakespeare plays to musical productions, the creative offerings of Elkhart County provide a vibrant culture and unforgettable memories for client visits and personal leisure. Home-cooked Amish meals and hospitality reinforce the wholesomeness of Elkhart County.
Our Mission
Our Mission is to create an economically vibrant community by recruiting, retaining, and strengthening our economic base; being a catalyst for diversification, innovation, and economic change.
Our Vision
The EDC of Elkhart County will leverage our entrepreneurial spirit, expertise and regional resources to develop a more prosperous community through a diversified, resilient and knowledge based economy.
Our Location
300 NIBCO Parkway, Suite 201
Elkhart, IN 46516
Toll Free: 877-535-1002
Phone: 574-293-JOBS (5627)
Fax: 574-343-2951
edc@elkhartcountybiz.com