By: Ron Barger Published on: Jun 23, 2021
With earth-moving machines in the background, business dignitaries and elected officials gathered Tuesday (June 22) afternoon to celebrate the groundbreaking for a new 500,000-square-foot production and distribution facility for the Dallas, Texas-based MJB Wood Group LLC.
The new facility will be located on a 37-acre parcel on State Road 120 in Bristol, Ind., just south of Country Road 21.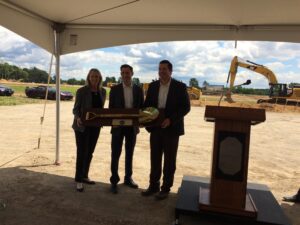 Expected to open in April of 2022, the new facility will consolidate the current MJB Wood Group's existing 228,000-square-foot facility in Elkhart, Ind., and will eventually employ over 100 people – about twice the number the current facility employs.
Cliff Caudill, the division manager for MJB Wood Group, said the facility will serve both the manufacturing and distribution side of the company, which among its other operations provides composite and engineered wood, plywood, LVL and LSL to the RV industry.
"We will be on about 38 acres in this 400-acre complex," he told RVBusiness. "Mainly dedicated to distribution and inventory of products as well as some light manufacturing and assembly. We will be bringing in some new equipment and new capabilities for MJB to support the RV industry, as well marine, utility vehicles and cargo trailers."
He explained that some of the support to these industry segments will encompassing more of its business units and include furniture and fixtures, millwork, doors and entry doors. Additional fabrication onsite will include cut-to-size panels for area OEMs as the facility includes a 100,000-square-foot fabrication area that will allow it to offer custom services such as cut-to-size, CNC machining, molding, kitting and light assembly.
"This will more than double our capacity for outbound goods," added Caudill. "There will be semi bays in the new facility for outbound." According to the company over the past five years, MJB has experienced tremendous growth in the region, exceeding 18% year-over-year revenue."
Prior to the groundbreaking itself, Scott Griggs, a 14-year veteran of MJB who was promoted to its president in July 2020, took time to the share the future vision of the company with RVBusiness.
"Currently, our general manager, Cliff, and his team have done an amazing job with the limited capacities we are in currently," Griggs said. "Now, with this new 500,000-square-foot facility, we will be integrating manufacturing and distribution into one location instead of three making us far more efficient. This will give us the ability to better service the RV industry and industries beyond giving us a platform to serve a Midwestern region.
"We are a unique company because, although RV is our biggest industry segment, we are heavy into doors, millwork, cabinets, fixtures and furniture. We bring in a lot of imports. So, we are one of those companies that put components of products into everyone's daily life but they have never heard of us."
Griggs added that having the rail spur was key for the new facility. "Not only having the rail spur here, but being able to unload the cars inside the facility is a game changer for our company," he said. "Now we have total indoor unload with greater capacity and better efficiencies. Rail was a non-negotiable on this project for us. We just had to have it."
"We are really thrilled to be here with this expansion at this exciting time," added Nathen Klomp, MJB's director of business development and marketing. "Business has been very strong over the past few years and this is something we've been wanting to accomplish. With as good as things are going in the RV industry and generally in the U.S. we think this is a strong play for us to support this industry in this region."
MJB Chairman of the Board Timothy Coors, a fifth-generation member of the Coors Brewing family, summed up the day's events.
"The Coors family is proud owners of MJB, and we are very excited to expand our investment and workforce in Bristol and Elkhart County to serve our growing, primary end markets of RV, cabinets, furniture, and transportation," said Coors. "In Bristol, Ind. we truly have a supportive partnership with the city, county and community. We could not have selected a better place to locate our new state-of-the-art facility for MJB."
Stonemont Financial Group is the developer of the project and ARCO Construction Company is the general contractor. Josh Wheeler of Stonemont Financial Group Development stated, "We are really excited to have a partner in MJB Wood with this big, rail-served facility that is their first facility of this type and will be one of their flagship operations around the country."
It's worth noting that also in attendance of the event were 10-plus government officials from the city, township, county and state, including Indiana Attorney General Todd Rokita, who recognized the team effort that went into bringing the facility to Elkhart County.
Other dignitaries at the groundbreaking were: Indiana State Rep. Joanna King; Elkhart County Commissioners Frank Lucchese, Brad Rogers and Suzanne Weirick; Elkhart County Councilmember Douglas Graham; Bristol Town Council President Jeff Beachy; Bristol Town Councilmembers Whitney Pierle and Jill Swartz; Bristol Town Manager Mike Yoder; and Bristol Town Clerk & Treasurer Cathy Antonelli.
---
Source: https://rvbusiness.com/mjb-wood-group-breaks-ground-on-bristol-ind-expansion/