Information in the following 2018 Wage & Benefit Summary is extracted from the 2018 Wage and Benefit Report for Elkhart County.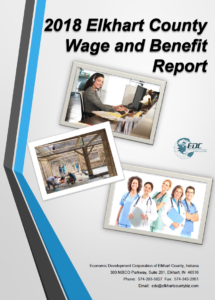 The full Report is available in PDF version to purchase for $99. To purchase, please contact Jacqueline Letherman by calling 574-293-5627 or emailing jacqueline@elkhartcountybiz.com.
The Report is detailed with 110 positions including management, production, technology, health and transportation. Benefits information covers health insurance plans, costs, time off, retirement plans, financial incentives, training opportunities and child care assistance.